About Us
Welcome to Hosur Sahodaya Schools.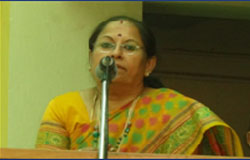 A wonderful journey of togetherness has begun with the inauguration of the Hosur Sahodaya Schools Complex on the 17th of April,2012.We feel privileged and honoured that the Honourable Chairman of the CBSE, Shri. Vineet Joshi is flagging off this venture. Sri.Joshi's dynamism and intense involvement in the varied and challenging paradigm shifts that have occurred in the CBSE over the years and are still on-going is testimony to his leadership. Dr.Sadhana Parashar-our dynamic Director -Training for the CBSE is well known for her passionate and intense involvement in all these radical changes.

Dr. Vasanthi Thiagarajan
And the journey continues...

Hosur Sahodaya Schools Complex has moving ahead keeping alive the spirit sharing to learn and learning to share.
We have new members and the family grows. There are 21 member schools of HSSC.
The HSSC has been successful in organising the training programmes as per CBSE guidelines. We have conducted CCE Expo and Kala Utsav.
We share common timetables for examination for class IX and X.

Sajeetha Barathi,
Principal,The Titan School.
Chairperson-HSSC.
And the journey continues...
HSSC continues to be vibrant and supportive of each other. We have been able to sustain the common programmes and policies and organise new ones according to the needs of the Sahodaya Schools. Our membership is increasing, and we are proud that we are adding value to the spirit of sharing.

Uma Srinivasan,
Principal- The Ashok Leyland School.
HSSC Chairperson (2017-2019).